Name of unit
NV-20012
Affiliation
Air Force
Established
2001
District
Washoe County School District
Enrollment
Apx.210
Location
Reno, Nevada
Coordinates
39.606178,-119.823377
Country
United States
Commands
AFOATS
Status
Active
Homepage
NV-20012

NV-20012 is a United States Air Force Junior Reserve Officer Training Corp In Reno, Nevada. It operates inside North Valleys High School as an elective class. There are approximately 210 cadets in the Corp divided into 6 flights. All cadets are given a personal AFJROTC Cadet Guide to keep, to follow and review. It's their responsibility to know the information contained in it. The Cadet Guide outlines AFJROTC participation, Standards of Behavior and Dress Code. These standards are derived from North Valleys dress code and Behavior Student Handbook, as well as AFJROTC Regulations.
Unit history
Edit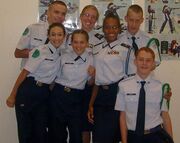 NV-20012 received it's activation orders from Air Force Headquarters, on March 26, 2001. The Corps is run by cadets and instructors: Senior aerospace science instructor (SASI) or aerospace science instructor (ASI).
Notable Personnel
Edit
List of Instructors




List of Wing or Group Commanders:
"NV-20012: The Series"
Edit
See main article: "NV-20012: The Series"

"NV-20012: The Series" is a series of short and full length movies about the Cadet Corps. The series was launched on May 26, 2008 with the release of the 'first season'. Plans are in the works for a 'second season'. "NV-20012: The Series" is about the various things and actities the Corps does thought the year and the drill meets the Corps has been to.
Cord Chart
Edit
At NV-20012 all positions are designated by cords, the picture to right show a visualization of the cords and the job the cadet holds
External links
Edit
Community content is available under
CC-BY-SA
unless otherwise noted.